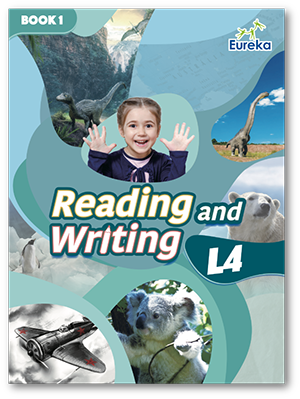 閱讀與寫作技巧訓練班 L4
小四
10 (建議)
1 小時 30 分鐘 (建議)
具有大學學位的外籍英語導師;擁有相關教學經驗,和/或教學資格,如 TEFL、TESOL、CELTA、PGDE/PCEd 等等
Course Name: Reading and Writing L4
Level: Primary 4
No. of Lessons: 10 (Suggested)
Lesson Duration: 1 hr 30 mins (Suggested)
Instructors: Native English teachers with a university degree ; related teaching experience, and/or teacher training such as TEFL, TESOL, CELTA, PGDE/PCEd, etc.
課程目標
本課程旨在讓學生接觸他們在學校和日常生活中可能遇到的各種文本類型。 它旨在通過循序漸進的練習來發展和加強學生的閱讀理解和寫作技巧。
課程特色
本書由五對閱讀和寫作單元組成,涵蓋五個主題和文本類型
閱讀單元幫助學生接觸到與固定主題和文本類型相關的各種詞彙和句子結構。 這些單元讓學生學習成為一名優秀讀者的技能,以及如何將他們的知識從閱讀應用到寫作
寫作單元鞏固了閱讀部分所教的內容。 單元分析預設的文本類型,並教授學生各種語法結構和語言特徵,以提高寫作能力
課程大綱
Unit 1: All about Me!
---
Text type: Autobiography
Skill: Reading
Activities
– Warm-up: Two truths and one lie
– Reading: My Life So Far
– Reading comprehension
– Reading skills: Identify author's purpose
– Vocabulary
Unit 2: All about Me!
---
Text type: Autobiography
Skill: Writing
Activities
– Overview: Autobiography
– Grammar: The simple past tense and past continuous tense
– Grammar: Time connectives
– Writing skills: First person narration
– Writing: My autobiography
Unit 3: Journey to the Lost World
---
Text type: Story
Skill: Reading
Activities:
– Warm-up: A magic key
– Reading: Grace and the Magic Key
– Reading comprehension
– Reading skills: Identify story elements
– Vocabulary
Unit 4:
Journey to the Lost World
---
Text type: Story
Skill: Reading
Activities:
– Overview: Story
– Storybook genres
– Grammar: Action verbs
– Grammar: Direct speech
– Writing skills: Describing characters and settings
– Writing: Journey to…
Unit 5: The Great Outdoors
---
Text type: Brochure
Skill: Reading
Activities:
– Warm-up: Outdoor activities
– Reading: Camp Eureka
– Reading comprehension
– Reading skills: Reading long words and context clues
– Vocabulary
Unit 6: The Great Outdoors
---
Text type: Brochure
Skill: Writing
Activities
– Overview: Brochure
– Grammar: Imperatives
– Grammar: Adjectives
– Writing skills: Generating ideas
– Writing: My camp
Unit 7: Amazing Animals
---
Text type: Information report
Skill: Reading
Activities:
– Warm-up: Animal A to Z
– Reading: Quokkas
– Reading comprehension
– Reading skills: Scanning
– Vocabulary
Unit 8: Amazing Animals
---
Text type: Information report
Skill: Writing
Activities:
– Overview: Information report
– Grammar: Linking verbs
– Grammar: Linking words for examples
– Writing skills: Research (fact or opinion)
– Writing skills: Topic sentences
– Writing: Animal report
Unit 9: Remembering History
---
Text type: Factual account
Skill: Reading
Activities:
– Warm-up: Which happened first?
– Reading: The Blitz
– Reading comprehension
– Reading skills: Order of events
– Vocabulary
Unit 10: Remembering History
---
Text type: Factual account
Skill: Writing
Activities:
– Overview: Factual account
– Grammar: Prepositions of time, date and place
– Grammar: Passive voice
– Writing: A time in history
– Writing skills: Editing and proofreading