December 2020
While English language education in Hong Kong follows a designated curriculum, there are other syllabuses that may be studied alongside it to support and complement its materials. What are some criteria that can be taken as reference when measuring a student's English proficiency? How do exams such as IELTS and Cambridge English supplement local curriculum such as the HKDSE?
Recognition: One step at a time
In 2019, 54,642 students sat the HKDSE. The English Language examination is amongst its core subjects, and a crucial requirement for entering higher education. Whilst it is understandable that many schools and students prepare for the exam by focusing on exam tactics and practising using past papers, it is important that students are not only able to tackle the exam, but also to develop skills which can be transferred to other academic and daily endeavours. 
Owing to some structural similarities between it and the HKDSE, many students choose to take the IELTS exam alongside or before they sit the HKDSE. IELTS (band scores ranging form level 1-9) can be measured against the CEFR scale for its reflected level of proficiency. Candidates who achieve a band score of 4-5 in IELTS are considered to be at around Level B1 (Independent User), whereas a candidate achieving a band score of 8.5-9 would be at Level C2 (Proficient User), the highest level on the CEFR. The Examination and Assessment Authority (HKEAA) has published a study comparing the standards between the HKDSE English language examination and those of IELTS. Based on these statistics (collated in Table 1), it can be inferred that the HKDSE standards range from around B1 (Independent User) to C1 (Proficient User) on the CEFR scale. 
As the exam demands a rather high level of English language proficiency, it may be beneficial for students to prepare in advance. The Cambridge A2 Key (KET) and B1 Preliminary (PET) examinations can be used to develop students' core skills and serve as a bridge between basic proficiency and the more advanced requirements of the HKDSE. For more advanced students, they may find it helpful to study these syllabuses during junior secondary, or even senior primary school. For students who struggle with English, these syllabuses are appropriate for preparation for the HKDSE, as they ease students through gradual and progressive exercises towards the DSE's level of difficulty. 
Regardless of whether a student intends to complete any one of these exams, their syllabuses may function as a guide for students and teachers to understand the learners' English level, and provide suitable aims and guidelines for progression. Eureka continuously offers support to schools, teachers and students on all the aforementioned exams. Whether their purpose may be to prepare for an exam or simply to increase proficiency, our NETs and purpose-built curriculum and materials are designed to help students reach the best of their potential.
What is CEFR?
The Common European Framework for Reference for Languages (CEFR) is a widely recognised indicator of English language proficiency. It was globally published by the Council of Europe in 2001 and adopted worldwide ever since. It begins at level A1 for beginners and goes up to C2 to refer to highly proficient users of English (and other languages). It is often used as a benchmark measurement to compare the standards between different examinations.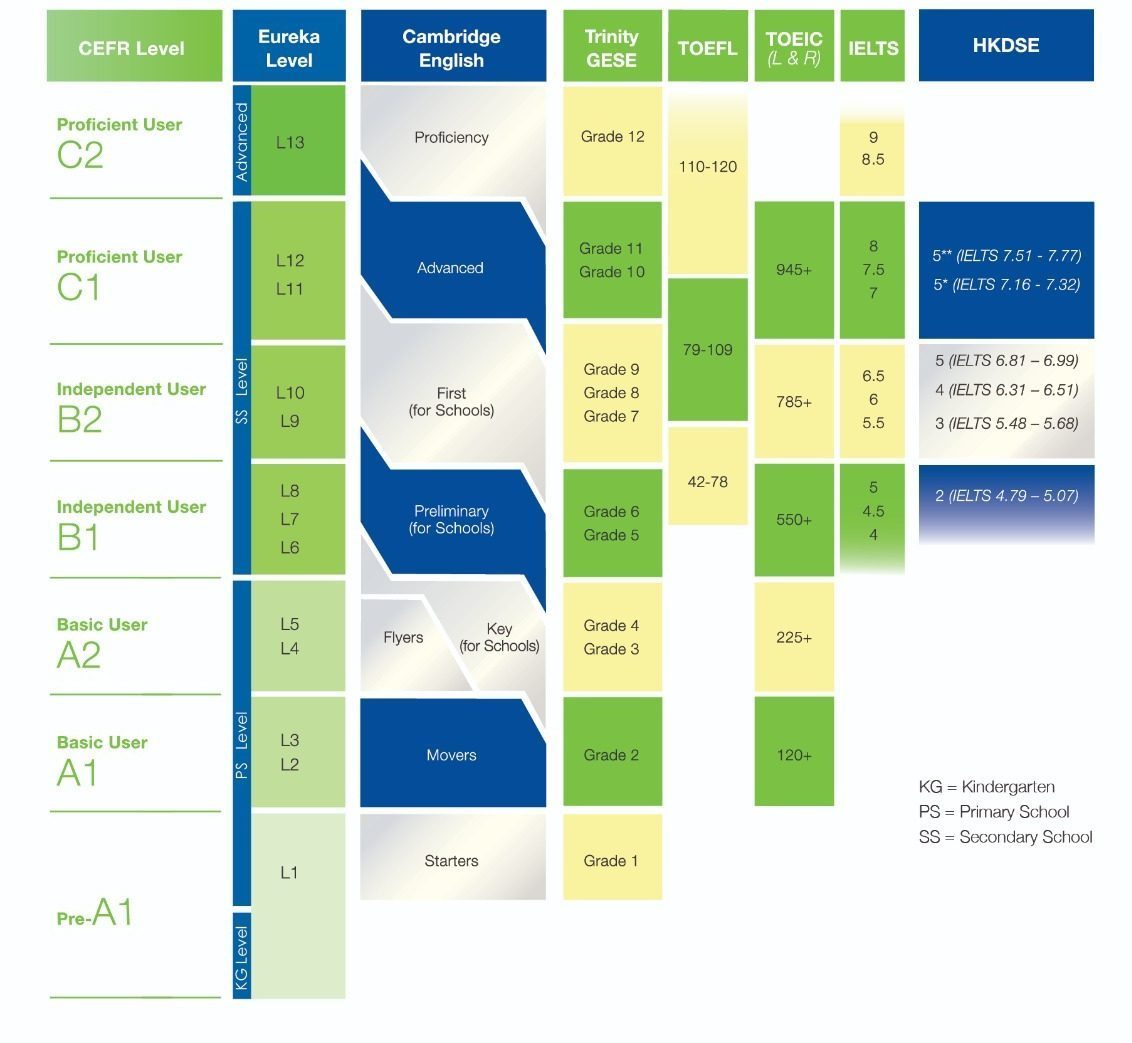 Table 1: CEFR Mapping Table